Pezzimenti Tunnelbore Completes 1000 Microtunnels, based in Sydney, from 1994 to 2016. Jim Shooter – Pezzimenti Tunnelbore NSW Manager – tells how it happened.
When I started with Pezzimenti in December 1994, I began logging each completed bore in an Excel spreadsheet. We record basic data like the project name, location, length, bore section, grade, ground type, pipe types, reason for bore etc. The file has become an invaluable tool for many reasons.
It chronicles in a nutshell the history of microtunnelling jobs we have been involved with.
It allows us to explain to designers and clients where their project lies on the continuum from a routine project – ie 'we've done this 37 times before and the risk is low' – to 'you are pushing the envelope here and we need to work through risks'.
It keeps alive in the memory those past jobs as a tool for telling the narrative of past experiences so as to at least attempt to repeat the successes and not to repeat the failures.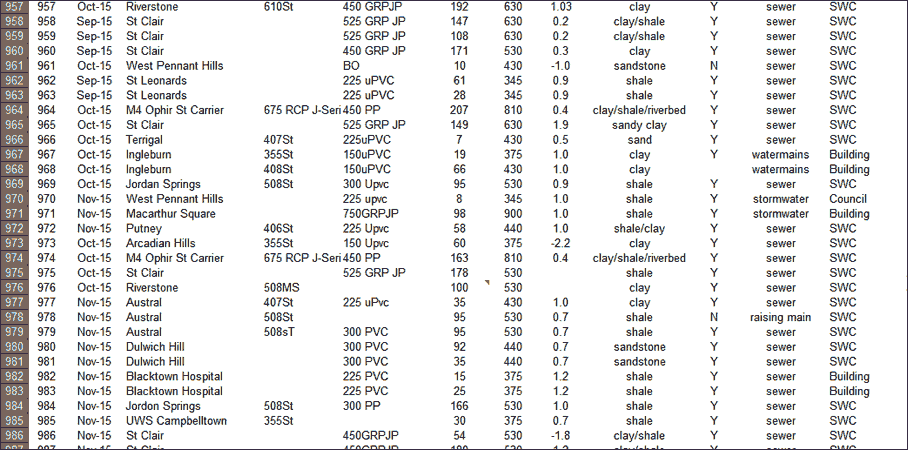 Pezzimenti Tunnelbore Jobslog – keeping track of microtunnels. 
Over the last 21 years the rows of jobs has steadily increased. In January this year we reached the major milestone of 1,000 microtunnels completed.
The 1,000 microtunnels represent a total distance microtunnelled of over 65,000m

ranging in diameters from 325mm to 1650mm in ground from moist sand, clay, the sedimentary rocks of sandstone, shale, siltstone which are so prevalent in the Sydney Basin – through to the igneous rocks of dacite, diorite.
We have 2 drillers claiming the honour of the 1,000th. Leon and Jason. The 998th bore had been decided, the 999th and 1,000th were up for grabs.
Leon has been drilling for about 6 months. He was drilling on a job at Harrington Grove for HiTec where he had to microtunnel 23m of  Ø430mm bore and then into an existing live sewer manhole. These jobs are generally staged. Stage 1 is drilling up to the outside of the manhole. Once Sydney Water is in attendance, Stage 2 is drilling through the manhole wall and bench. Leon completed Stage 1 in the morning of Friday 4th March 2016.
Jason has been drilling for about 18 months. He has since successfully very difficult projects eg long distance (up to 200m) pipejacking jobs which until quite recently we would have only put our most experienced operators on.
After lunch on that Friday, Jason broke through on a 91m x Ø630 microtunnel at Macquarie Park for MMA Civil. Jason believing, Leon had claimed the 999th, claimed the title of the 1,000th. Leon countered saying he had not finished his bore until the end of Stage 2 which was the next day and so his was the 1,000th!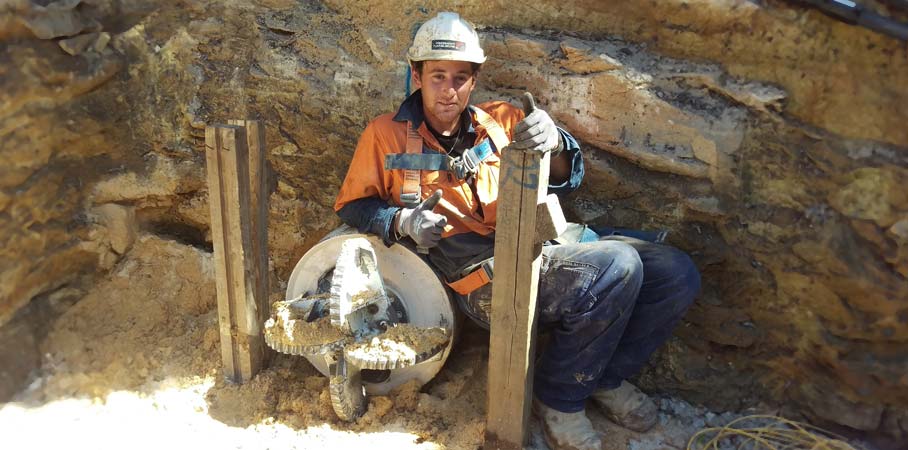 Driller Jason claims Pezzimenti Tunnelbore's 1000th Microtunnel – based in Sydney from 1994 – 2016
I'm not fussed. After 21 years and over 1,000 microtunnels completed and counting, it is most gratifying that the next generation is stepping up to the plate and building on the experience of our 'senior drillers'.
Nick has been drilling for nearly 30 years, Andrew for 15 years, Paul for 10 years and Luke for 5 years. These guys have completed the bulk of the 1,000 bores and can rightfully claim a great deal of credit for the 1,000th milestone.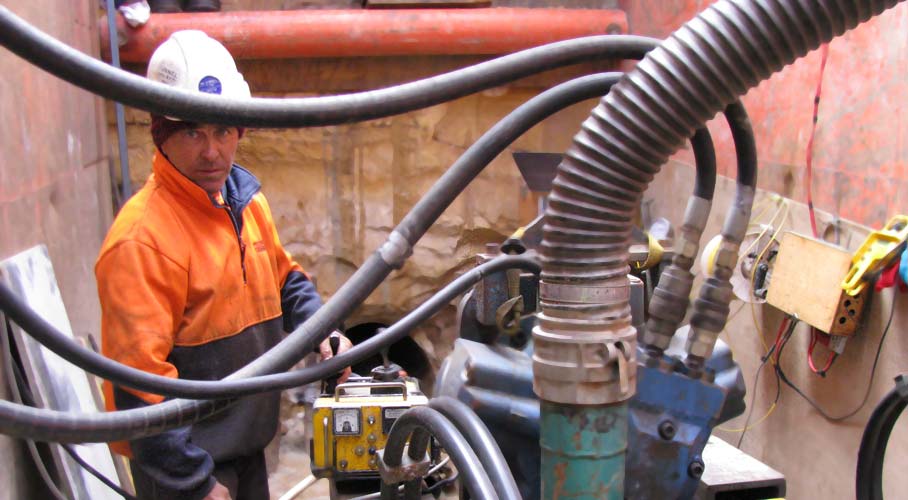 Nick when he was still a driller – now Crew Manger.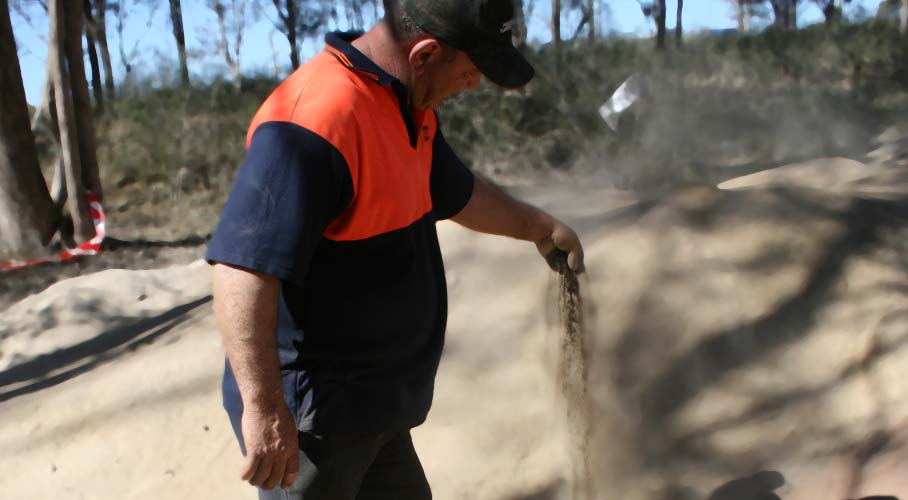 Andy checks the spoil – Pezzimenti Tunnelbore Driller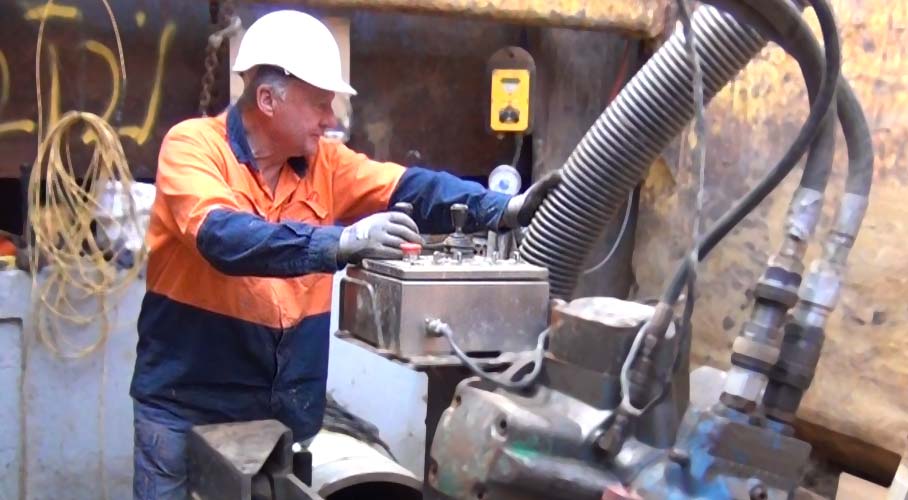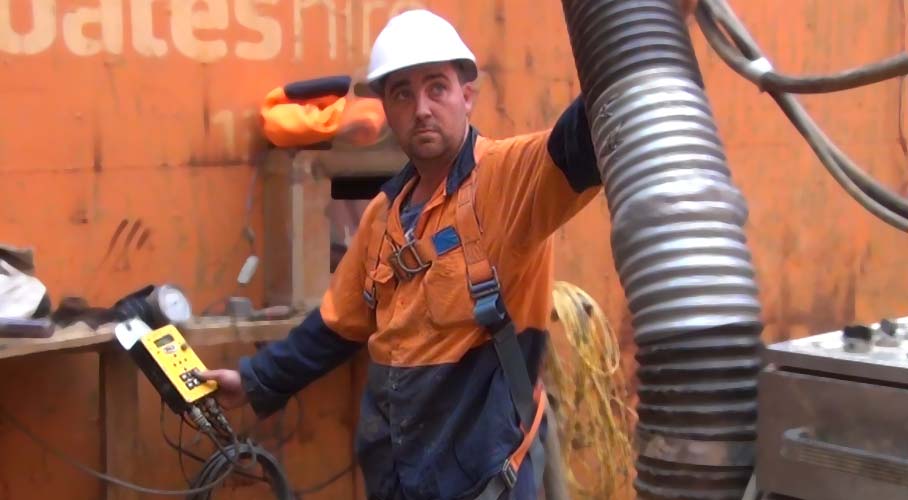 Luke monitors vacuum while drilling